Project Description
FROM PIEMONTE TO SICILY – JUST FOR FOODIES
if you are a real foodies you can join this tour: starting from the capital of chocolate and "Barolo", passing through the capital of filled fresh pasta, discovery traditions, tastes and peculiarities of every region or try the tour in the land of sunshine and "Cannoli". Such itineraries are becoming increasingly flexible, moving from week-long residential schools, with hands-on lessons and visits to local markets, vineyards and producers, to drop-in courses lasting anything from a morning to two or three days. The rest of the time you will enjoy to taste the food of the selected Region.
Nowhere in Italy lacks for culinary interest, but when choosing longer courses, which are often set in rural villas rather than towns, consider the destination. You will have free time, and will visit local towns as part of the course, so is the area one that you want to explore? Are other historic centres within striking distance?
You may want chose somewhere that, even by the country's high standards, is especially known for its gastronomy, or has a stronger than usual regional element to its food, such as Bologna,Parma,Sicily or Piedmonte, or a coastal area such as Amalfi for fish and seafood. If you want to learn about a specific region's cuisine, it naturally makes sense to book a holiday in that area. Most specialist companies offer Tuscan and Umbrian bases, but we could decide to move toward more unusual locations such as Piedmonte, Rome, Le Marche and the Veneto.
For example, in three  days tour, we can visit a wineyard, meet with a local wine maker, eat and drink visit a canteen and taste the wine, visit a local chocolate producer in Perugia or a "prosciuto maker" in Le Marche.
Have a dinner at a local historical restaurant at Sorrento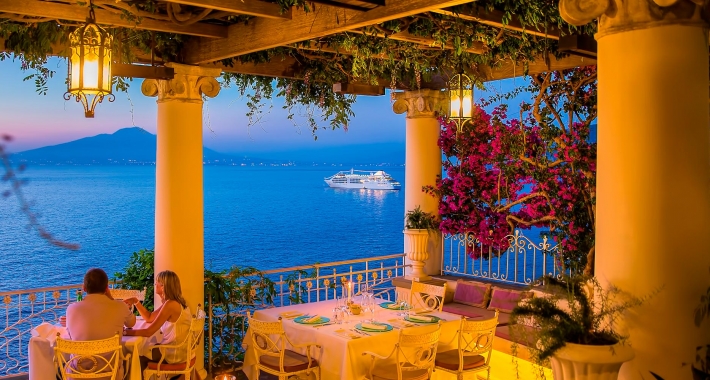 or at Venice. You decide!
Frequency: to be determined
. 3 days tour . min 10 pax max 20 pax