Project Description
Italian music has been held up in high esteem in history and many pieces of Italian music are considered high art. More than other elements of Italian culture, music is generally eclectic, but unique from other nations' music.The country's historical contributions to music are also an important part of national pride. The relatively recent history of Italy includes the development of an opera tradition that has spread throughout the world.
Italy has a strong sense of national identity through distinctive culture – a sense of an appreciation of beauty and emotionality, which is strongly evidenced in the music. Cultural, political and social issues are often also expressed through music in Italy. Allegiance to music is integrally woven into the social identity of Italians but no single style has been considered a characteristic "national style". Most folk musics are localized, and unique to a small region or city.] Italy's classical legacy, however, is an important point of the country's identity, particularly opera; traditional operatic pieces remain a popular part of music and an integral component of national identity. The musical output of Italy remains characterized by "great diversity and creative independence (with) a rich variety of types of expression". Particulary  napoletan music and roman music in a magical Roman place of old Rome.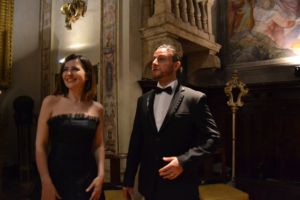 This three well-known opera singers, Francesco, Rosella and Stefano, will accompany us through a repertoire dedicated to love. From Caruso, to Bocelli with a tune-up among the most important arias of classical music.  And why the theme of love? Because passion and love are the explosive feelings that have always characterized the italian spirit and the man's creative inspiration, from music to architecture or painting.